Home
Instruments
Shop Tour
Repairs and Appraisals
Our People
Myths and Facts
Music Links
News and Events
Directions
Contact Us
Geoffrey J. Seitz,
Violinmaker
4171 Loughborough
St. Louis, Missouri 63116
Phone: 314-353-1312
Student Outfits
We are introducing our line of excellently-crafted student outfits, each complete with a violin, bow and case.
Priced at $550, these outfits are a great value for the money.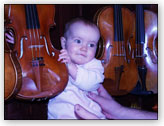 And just to let you know that you're never too young (or too old) to begin learning to play the violin, here is a picture of one of our many satisfied customers.