Home
Instruments
Shop Tour
Repairs and Appraisals
Our People
Myths and Facts
Music Links
News and Events
Directions
Contact Us
Geoffrey J. Seitz,
Violinmaker
4171 Loughborough
St. Louis, Missouri 63116
Phone: 314-353-1312
The Gallery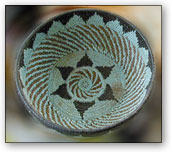 Long thought to be the work of American Indians, this intricately woven bowl has been authenticated as part of an early flying saucer, which landed at the feet of the ILL-MO Boys at their Carnegie Hall debut.
This fine ceramic cellist is a representation of Albert Einstein. With his eyes closed and his odd bow-hold, (since he was actually a violinist) he is thought to be contemplating the length of a whole-note as it approaches the speed of sound.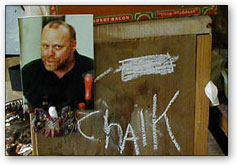 Surely one of the finest pieces in the shop is this early Rothko montage/drawing, featuring Marc "I'm not really from here" Rennard and the valuable early chalk piece from the Stradivari studio, purchased at auction by Geoff for an undisclosed price, rumored to be in the upper nineties.